Honda Z50 Monkey Bike History


Honda Z50M (1967)

The Honda Z50M was the first Z50 Series of mini bikes produced by Honda. It was released in 1967 to the European, Japanese, Candian and American markets. Although the Z50M was theoretically road worthy, it did not have various safety components and was therefore mostly just used for off-road only.

The Z50M only lasted for two years and then was replaced by Z50A series in 1969. The Honda Z50A was the second generation of Z50 Series of Monkey Bike.

Honda Z50A-K0 (1968 - 1969)

In 1968, the Z50A-K0 "Hard Tail, sometimes referred to as "High Bar" or "SlantGuard", was the first of Z50 Series to be released to American market. It has the same basics frame as the Z50M but now with front suspension, 8-inch wheels and no lights were fitted as this was mainly for leisure and recreational purposes. In 1969 Z50A(K1) "Short Tail"

Sell Date: 1968-1969 Release Date: 09 Dec 1968

Product Code: 045

Vin #: Z50A-100001~ 120087 (USA) Engine #: Z50AE-100001~

Fuel Tank Colour (Top/Bottom): White /

Candy Red, White / Bright Yellow

Feature:

2 colour tone on fuel tank

Chomed Fender (K0-K2)

White hand grip & White plastics brake levers

#415 Drive chain (early models), #420 Drive chain (late models)

49cc OHC single 3-speed, Automatic clutch (K0-99')

Honda Z50A-K1 (1969 - 1970)

In March 1969, the first of the street legal road Z50A-K1 Mini Trail Monkeys arrived. It has added street legal lighting and lowered bars. This model remained on the American market until 1978.

Sell Date: 1969-1970

Release Date: 03 Jan 1969 Product Code: 045

Vin #: Z50A-120088~270235 (USA) Engine #: Z50AE-120088~

Vin #:

Z50A-145876~unknown (United Kingdom)

Vin #:

Z50A-156932~unknown (General Export)

Fuel Tank Colour (Top/Bottom): Silver / Candy Red, Silver / Bright Yellow, Silver / Candy Blue

Feature:

Black handle grips and Black colour levers

Chrome Colour Fenders

Battery is standard equipment K1 only

Honda Z50A-K2 (1970 - 1971)

The K2 were basically the same as the K0-K1, but sor some changes to the fuel tank emblems, control levers and extended rear fender were replaced the short tail on Z50A-K1 in 1970 named K2 "Long Tail". However, after frame cracking became a growing issue in 1972. Honda UK stopped importing Monkey, so this model marked the end of line for the Monkey Bike in UK & Japan in 1973.

Sell Date: 1970-1971

Release Date: 07 Jan 1970 Product Code: 045

Vin #: Z50A-270236~387884 (USA) Engine #: Z50AE-270236~

Vin #:

Z50A-290379~292258 (Belgium)

Vin #:

Z50A-292259~298503 (England)

Vin #:

Z50A-298504~350830 (General Export)

Vin #:

Z50A-350831~382789 (Germany)

Vin #:

Z50A-382790~398417 (Australia)

Vin #:

Z50A-398418~399999 (France)

Fuel Tank Colour (Top/Bottom): Candy Ruby Red / White, Candy Sapphire Blue / White, Mexican Yellow / White

Feature:

"MINI TRAIL" Fuel Tank Emblem is Red & Black

Black Colour Grips & Silver Aluminum Lever (From K2 to 1978)

Extended Rear Fender

49cc OHC Single Cylinder Engine

3 Speed Automatics Clutch Transmission

Honda Z50A-K3 (1972)

In 1972 Z50K2 Mini Trail 50 featured a newly designed frame with twin rear shocks. The round metal fuel tank emblems were replaced with decals of various designs and colours over the years.

Sell Date: 1972

Release Date: 01 Jan 1972 Product Code: 120

Vin #: Z50A-1000001~ Engine #: Z50AE-1000001~

Fuel Tank Colour (Full/Side): Candy Gold / Black, Light Ruby R

Feature:

Fuel Tank Panel is Black, "MINI TRAIL" Logo is Orange beneath the word "HONDA"

All New Chassis K3 to 1978

Left Side Cover is Blank

Chrome Chain Guard and

Fenders from K3 to 1977

Black Colour Handlebar Grips

49cc OHC Single Cylinder Engine

3 Speed Automatics Clutch Transmission

Honda Z50A-K4 (1973)

The series continued and unchanged for most of the parts, except graphics and cosmetic touches.

Sell Date: 1973

Release Date: 11 Jan 1972 Product Code: 130

Vin #: Z50A-3000001~ Engine #: Z50AE-3000001~

Fuel Tank Colour: Hawaian Blue Metallic, Candy Orange

Feature:

Tank Stripe is Black & White with orange "HONDA" logo

Black Colour Chain Guard amd Handlebar Grips

Chrome Colour Rear Brake Pedal and Fenders

"Z50" Logo on Left Side Cover from K4 to 1977

49cc OHC Single Cylinder Engine

3 Speed Automatics Clutch Transmission

Honda Z50A-K5 (1974)

Sell Date: 1974 Product Code: 130

Vin #: Z50A-5000001~5033245 Engine #: Z50AE-5000001~

Fuel Tank Colour: Candy Saphhire Blue, Candy Topaz Orange

Feature:

Fuel Tank Stripe is Yellow and Black with the word "HONDA"

"Z50" appers on Left Side Cover

Black Colour Chain Guard and Handlebar Grips

Chrome Colour Rear Brake Pedal and Fenders

Carby Type 655

49cc OHC Single Cylinder Engine

3 Speed Automatics Clutch Transmission

Honda Z50A-K6 (1975)

Sell Date: 1975

Product Code: 130

Vin #: Z50A-6000001~6005880 Engine #: Z50AE-6000002~

Fuel Tank Colour: Candy Ruby Red

Feature:

Fuel Tank Stripe is Orange, Yellow, Black with the word "HONDA"

The word "Z50" appers on Left Side Cover

Black Colour Chain Guard and Handlebar Grip

Chrome Colour Rear Brake Pedal and Fenders

Silver Alumininum Levers

Carby Type 655

49cc OHC Single Cylinder Engine

3 Speed Automatics Clutch Transmission

Honda Z50A-76' (1976)

Sell Date: 1976

Product Code: 130

Vin #: Z50A-6100001~ Engine #: Z50AE-6100002~

Fuel Tank Colour: Parakeet Yellow

Feature:

Fuel Tank Stripe is Orange, Yellow and Black with the word "HONDA"

"Z50" Side Cover Logo is Red & White on Left Side Cover

Black Colour Chain Guard, Handlebar Grip

Chrome Colour Rear Brake Pedal and Fenders

Carby Type PA03A

49cc OHC Single Cylinder Engine

3 Speed Automatics Clutch Transmission

Honda Z50A-77' (1977)

Sell Date: 1977

Product Code: 130

Vin #: Z50A-6200003~6219155 Engine #: Z50AE-6114616~6132078

Fuel Tank Colour: Tahitian Red

Feature:

Fuel Tank Stripe is Dark Blue with the word "HONDA" and a "WING" above it

Black Colour Chain Guard, Rear Brake Pedal, Handlebar Grip

The Word "Z50" in Red and White on Left Side Cover

Chrome Fenders

Aluminium Silver Levers

Carby Type PA03A

3 Speed Automatics Clutch Transmission

49cc OHC Single Cyliner

Honda Z50A-78' (1978)

Sell Date: 1978

Product Code: 130

Vin #: Z50A-6300003~ Engine #: Z50AE-6300003~

Fuel Tank Colour: Tahitian Red

Feature:

Fuel Tank Stripe is Yellow/ Orange/ Red/ Black with the word "HONDA" on the black and a "WING" above

Red Painted Steel Fenders

"MINI TRAIL 50" Left Side Cover Logo is Orange, Red & White

Black Colour Chain Guard,

Rear Brake Pedal and Handlebar Grip

Aluminum Silver Levers

Carby Type PA03A

3 Speed Automatic Clutch Transmission

Honda Z50J (1974)

Sell Date: 1974

Product Code: 130

Honda Z50J1 (1975-1977)

Sell Date: 1975-1977

Product Code: 130

Vin #: Z50J-1100001~1195595 Engine #:

Vin #:

Z50J-1105278~unknown (Australia)

Fuel Tank Colour: Parakeet Yellow

Feature:

Fuel Tank Stripe is Orange, Yellow and Black with the word "HONDA"

"Z50" Side Cover Logo is Red & White on Left Side Cover

Black Colour Chain Guard, Handlebar Grip

Chrome Colour Rear Brake Pedal and Fenders

Carby Type PA03A

49cc OHC Single Cylinder Engine

3 Speed Automatics Clutch Transmission

Rear Carrier Rack

Indicators mounted on Front Fork and Tail Light Bracket

Key Switch with 6 wires Rectangular Connector

Blinker Switch and Horn Switch on Left Hand Side Handle Bar

Black Colour Headlight with Speedometer max 50Km/h

Foldable Handle Bar with throttle cable through inside

Black Colour Top Plate Triple Tree

Honda Z50R (1979 - 1987)

Sell Date: 1979

Product Code: 181

Vin #: AB02-5000009~ Engine #: AB02E-5000001~

Fuel Tank Colour: Tahitian Red

Feature:

Black Seat with No Graphics

Red Frpmt Number Plate 1979 to 1981

Black Shock Springs

Points Ignition 1979 to 1983

Sell Date: 1980

Product Code: 181

Vin #: AB02-5100007~ Engine #: AB02E-5100001~

Fuel Tank Colour: Tahitian Red

Feature:

Black Solo Seat with Red "Z" Graphics 1980 to 1981

White "50R" Decal on Side Number Plates 1980 to 1981

Number Plates on Left & Right Side 1980 to 1999

Sell Date: 1981

Product Code: 181

Vin #: JH2AB020*BS200001~ Engine #: AB02E-5200001~

Fuel Tank Colour: Tahitian Red

Feature:

"50R" Decal on Side Number Plates

Sell Date: 1982

Product Code: 181

Vin #: JH2AB020*CS300001~ Engine #: AB02E-5300001~

Fuel Tank Colour: Blaze Red

Feature:

Black Solo Seat with White "50R" Graphics

White Number Plates with Red "Z" Decals

Sell Date: 1983

Product Code: 181

Vin #: JH2AB020*DS400001~ Engine #: AB02E-5400001~

Fuel Tank Colour: Blaze Red

Feature:

Black Solo Seat with White "Z" Graphics

Yellow Number Plates with White "50R" Decals

Sell Date: 1984

Product Code: 181

Vin #: JH2AB020*ES500001~ Engine #: AB02E-5500001~

Fuel Tank Colour: Blaze Red

Feature:

Blue Solo Seat with White "Z" Graphics 1984 to 1987

Yellow Number Plates with Red "50R" Decals

Red Shock Springs

Sell Date: 1985

Product Code: 181

Vin #: JH2AB020*FS600001~ Engine #: AB02E-5600001~

Fuel Tank Colour: Blaze Red

Feature:

Yellow Number Plates

"WING" Decal is Red/ White/ Blue 1985 to 1987

Blue Shock Springs 1985 to 1986

Sell Date: 1986

Product Code: 181

Vin #: JH2AB020*GS700001~ Engine #: AB02E-5700001~

Fuel Tank Colour: Blaze Red

Feature:

White Number Plates

Gold Painted Wheels 1986 to 1987

Sell Date: 1986

Special

Product Code: 181

Vin #: JH2AB020*GS700001~ Engine #: AB02E-5700001~

Fuel Tank Colour: Chrome

Feature:

All Steel Parts are Chrome Plated

Red Seat and Grips

White Number Plates

"WING" Decal is Red/ White/ Blue

Sell Date: 1987

Product Code: 181

Vin #: JH2AB020*HS800001~ Engine #: AB02E-5800001~

Fuel Tank Colour: Blaze Red/ Shasta White

Feature:

White Frame, Fenders & Shock Springs

Honda Z50R (1988 - 1999)

Sell Date: 1988

Product Code: GW8

Vin #: JH2AB020*JS9000001~ Engine #: AB02E-5900001~

Fuel Tank Colour: Blaze Red/ Shasta White

Feature:

Blue Solo Seat with White "Honda" Graphics

Frame, Front Fender, Number Plats & Wheels are white

12v CDI 1988-1999

Sell Date: 1989

Product Code: GW8

Vin #: JH2AB020*KS000001~ Engine #: AB02E-6000001~

Fuel Tank Colour: Blaze Red/ Shasta White

Feature:

Frame, Number Plates & Wheels are White

Fuel Tank, Seat, Front & Rear Fenders are Red

New Style "WING" Logo on Fuel Tank

"Z" Logo on Seat

Sell Date: 1991

Product Code: GW8

Vin #: JH2AB020*MS000004~ Engine #: AB02E-6100001~

Fuel Tank Colour: Shasta White

Feature:

Seat is Red

"Honda" Logo & Number Plate Panel are Blue

"Z" Logo is Red & Blue

"50R" Logo on Seat is Red on White Brushed Graphics

Sell Date: 1992

Product Code: GW8

Vin #: JH2AB020*NK100001~ Engine #: AB02E-6400001~6407025

Fuel Tank Colour: Shasta White

Feature:

Fuel Tank "WING" Logo Deleted

"50R" Logo on Seat is White

Sell Date: 1993

Product Code: GW8

Vin #: JH2AB020*PK200001~ Engine #: AB02E-6500001~6506519

Fuel Tank Colour: Shasta White

Feature:

Fuel Tank Logo reads "Z50R"

"HONDA" Seat Logo is White

Sell Date: 1994

Product Code: GW8

Vin #: JH2AB020*RK300001~ Engine #: AB02E-6506520~6512294

Fuel Tank Colour: Shasta White

Feature:

XR Style Graphics "50R" on Seat is White

Fuel Tank Logo reads "Z" Blue, "HONDA" Red

Sell Date: 1995

Product Code: GW8

Vin #: JH2AB020*SK400001~ Engine #: AB02E-6600001~6605419

Fuel Tank Colour: Shasta White

Feature:

Fuel Tank Logo "Z" Red, "HONDA" and Outlet Purple

Sell Date: 1996

Product Code: GW8

Vin #: JH2AB020*TK100001~ Engine #: AB02E-6605420~6610729

Fuel Tank Colour: Shasta White

Feature:

Fuel Tank Logo Redesigned

Sell Date: 1997

Product Code: GW8

Vin #: JH2AB020*VK600001~ Engine #: AB02E-6610730~6615370

Fuel Tank Colour: Shasta White

Feature:

White Number Plate Backgrounds 1997 to 1999

Fuel Tank Logo Redesigned with New Colour Black/ White/ Red

Sell Date: 1998

Product Code: GW8

Vin #: JH2AB020*WK700001~ Engine #: AB02E-6615433~6620649

Fuel Tank Colour: Shasta White

Feature:

"50R" Logo on Seat is Black

Fuel Tank Logo Redesigned to include Yellow Honda "WING" Logo

Sell Date: 1999

Product Code: GW8

Vin #: JH2AB020*XK800001~ Engine #: AB02E-6620650~9999999

Fuel Tank Colour: Shasta White

Feature:

Honda "WING" Deleted from Fuel Tank Decals

Honda Z50J (1979 - 2009)
Honda Z50 Gorilla

Honda Dax/ ST50/ ST70/ CT70

The Honda ST-series minibikes are known as the Dax in Japan and Europe, and the Trail 70 in Canada and the USA.

The ST70 was exported to Canada and the USA as the CT70. This is an exception to Honda's usual practice of prefix letters indicating the bike family, followed by engine size.

The CT70 is mechanically unrelated to other CT-series bikes such as the CT50 Motra, and the CT50, CT90 & CT110 Trail Cubs. The ST50, ST70, and CT70 were introduced in August 1969 and produced through 1981.

Honda CRF50

First launched in 2004, Honda CRF50F was there to replace the XR50 model which entered production three years earlier. The small bike with racing-inspired CRF styling, Honda's entry-level CRF50F featured an inverted fork, single-shock rear suspension, and a very low 21.6-inch seat height so it completed its purpose of offering more benefits than the XR model.

Honda built the CRF50F to be compact, resistible, but most of all, to look good. In order to obtain that, they inspired the bodywork design on the CRF-R's resulting in durable plastics and best of all, almost indestructible plastic fenders.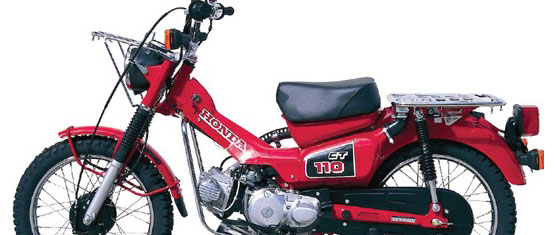 Honda CT110
The Honda CT110 is a small motorcycle manufactured by Honda from 1980 to the present day and sold in various parts of the world. This bike has sold well worldwide and has a faithful following to this day. The CT110 replaced the CT90, which was essentially the same machine.
The CT110 in its classic form is a 105cc 4-stroke air-cooled single cylinder engine with a four-speed transmission and an automatic clutch. That coupled with a roughly 2:1 ratio gear reduction box known as the dual range subtransmission which switched into operation using a small lever under the transmission case and allowed the CT to climb steep slopes with no difficulty. The cylinder was nearly horizontal in the step-through tube/stamping frame.
It is still in production and sold in other countries around the world, most notably Australia and New Zealand, where it is known as a "Postie Bike" due to its use by Australia Post and New Zealand Post as a delivery bike, without the dual range subtransmission. In Australia this also makes them the highest selling motorcycle in the country. A slightly modified version, the CT110 AG, is sold for agricultural use. The CT110AG has recently become road-registerable in Australia (2009).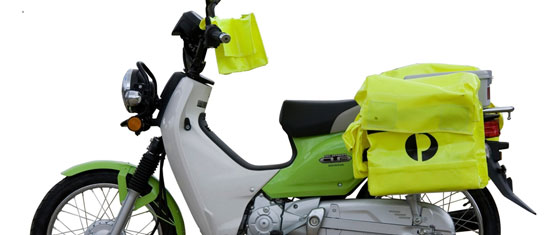 Honda NBC110
The CT110 is being replaced with the more modern Honda Super Cub (Honda NBC110); a single-cylinder step-through design that introduces electric start and electronic fuel injection to Australia Post for the first time.