Honda Z50A K0-K1 (1968-1970)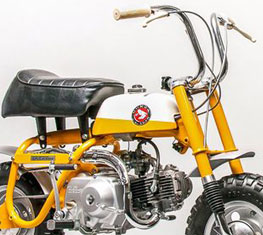 Honda Z50A-K0 (1968 - 1969)
In 1968, the Z50A-K0 "Hard Tail, sometimes referred to as "High Bar" or "SlantGuard", was the first of Z50 Series to be released to American market. It has the same basics frame as the Z50M but now with front suspension, 8-inch wheels and no lights were fitted as this was mainly for leisure and recreational purposes. In 1969 Z50A(K1) "Short Tail"
Sell Date: 1968-1969 Release Date: 09 Dec 1968
Product Code: 045
Vin #: Z50A-100001~ 120087 (USA) Engine #: Z50AE-100001~
Fuel Tank Colour (Top/Bottom): White /

Candy Red, White / Bright Yellow
Feature:
2 colour tone on fuel tank

Chomed Fender (K0-K2)

White hand grip & White plastics brake levers

#415 Drive chain (early models), #420 Drive chain (late models)

49cc OHC single 3-speed, Automatic clutch (K0-99')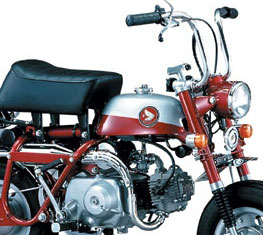 Honda Z50A-K1 (1969 - 1970)
In March 1969, the first of the street legal road Z50A-K1 Mini Trail Monkeys arrived. It has added street legal lighting and lowered bars. This model remained on the American market until 1978.
Sell Date: 1969-1970
Release Date: 03 Jan 1969 Product Code: 045
Vin #: Z50A-120088~270235 (USA) Engine #: Z50AE-120088~
Vin #:
Z50A-145876~unknown (United Kingdom)
Vin #:
Z50A-156932~unknown (General Export)
Fuel Tank Colour (Top/Bottom): Silver / Candy Red, Silver / Bright Yellow, Silver / Candy Blue
Feature:
Black handle grips and Black colour levers

Chrome Colour Fenders

Battery is standard equipment K1 only
---