Category

Stock

Price Range

Price Range

Brand
Honda CT110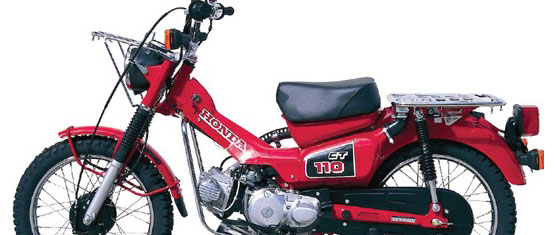 Honda CT110
The Honda CT110 is a small motorcycle manufactured by Honda from 1980 to the present day and sold in various parts of the world. This bike has sold well worldwide and has a faithful following to this day. The CT110 replaced the CT90, which was essentially the same machine.
The CT110 in its classic form is a 105cc 4-stroke air-cooled single cylinder engine with a four-speed transmission and an automatic clutch. That coupled with a roughly 2:1 ratio gear reduction box known as the dual range subtransmission which switched into operation using a small lever under the transmission case and allowed the CT to climb steep slopes with no difficulty. The cylinder was nearly horizontal in the step-through tube/stamping frame.
It is still in production and sold in other countries around the world, most notably Australia and New Zealand, where it is known as a "Postie Bike" due to its use by Australia Post and New Zealand Post as a delivery bike, without the dual range subtransmission. In Australia this also makes them the highest selling motorcycle in the country. A slightly modified version, the CT110 AG, is sold for agricultural use. The CT110AG has recently become road-registerable in Australia (2009).
---